High Exclusive Designed Villas In Bodrum
Features
24 Hour Security
Air Conditioning
ATM
Balcony
Car Park
car washing
Car-parking
Central heating
Dryer
Green Areas
Holiday property
Investment properties
Luxury Property
Microwave
near atm
near hospital
Outdoor Swimming Pool
Sauna
Security
Security System
Swimming Pool
Details
Your dreams come true in This project which keeps life alive every season with its warm climate.
Your home is entrusted to your home thanks to the Smart Home System feature, where you can instantly activate all the features you want as if you were on a video. With Smart Home Systems, you will save time, experience comfort and achieve a more economical life model.
with its villas designed with a friendly attitude to the texture of nature. At the most beautiful point of the region, on a peninsula surrounded by blue on three sides, right on the shore of the sea, intertwined with life, your dreams come true.
* Suitable for Citizenship
* Ready to Move
Project Information:
8 Villas
3+1,  Bedroom Options
Facilities:
Site Features
Walking Track
Parking Garage
Indoor Swimming Pool
Children Swimming Pool
Children's Playgrounds
Sauna
Turkish Bath
Fitness Center
SPA
Outdoor Swimming Pool
Security
Camera Security
Laundry Room
Balcony
Prices:
| | | | | |
| --- | --- | --- | --- | --- |
| Rooms | Min m2 | Max. m2 | Min. Price | Max. Price |
| 3+1 | 500 m2 | 550 m2 | 1.550.000 $ | 1.750.000 $ |
Location:
5 Minutes to Sea side
20 Minutes to Highway
30 Minutes to Bodrum International Airport
bodrum or Halicarnassus as its former name, was founded in 484 BC by ancient Greeks. Since then, Bodrum has been a city that was conquered by some of the greatest empires of history, such as Byzantines, Ottomans, Romans, and Persians. Until the 16th century Halicarnassus had been captured by those empires rapidly but after 1522 it remained as a Turkish town. After the declaration of the Republic of Türkiye, its name is changed from Halicarnassus to Bodrum.
High Exclusive Designed Villas In Bodrum
Bodrum is the most popular tourist location of the Republic of Türkiye. With its hot climate, limitless nightlife and stunning sea Bodrum is an irreplaceable place for summer vacations among its tourists. Endless entertainment activities, such as special shows and concerts, innumerable activities, and dynamic friendly people make summers in Bodrum priceless. —High Exclusive Designed Villas In Bodrum
Places to Visit in Bodrum
Bodrum has both natural and humane beauties to charm you. In the mornings you can enjoy the swimming beneath the sun and spend the afternoon with some cultural activities like museum visiting.
High Exclusive Designed Villas In Bodrum
Bodrum Underwater Archeology Museum
This very special museum sheds light on the newly-discovered archeological remains from the bottom of the ancient Aegean Sea. The museum is an essential stop for the lovers of history, as it houses a variety of interesting remains from shipwrecks to ancient coins. The museum also has a collection of amphoras, enlightening its visitors on how people used to carry and trade goods in the Antiquity. The Museum is in the Bodrum Castle.
The castle is perfect if you want to enjoy the scenery the marvelous Bodrum sea creates. Throughout its long history, the castle has been used by different civilizations, and small alterations and renovations you can easily observe in your visit reflect the mosaic-like culture of the area. Don't end your Bodrum visit without climbing the stairs of this ancient building while watching the sea.—High Exclusive Designed Villas In Bodrum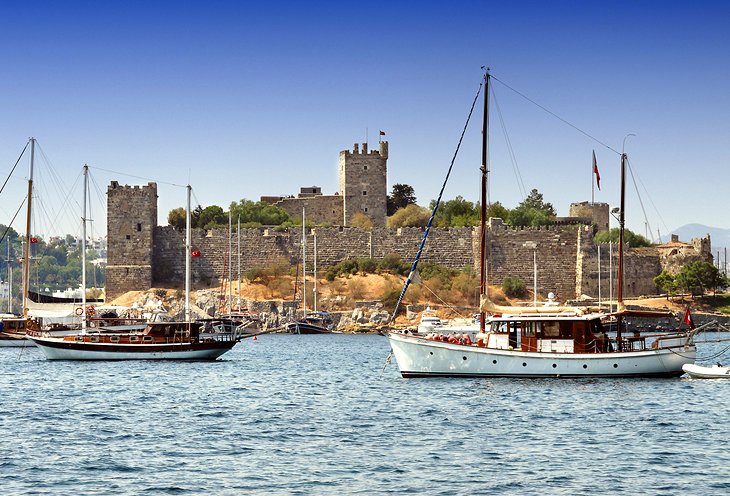 Karakaya Village
To feel the authentic local Bodrum spirit, you should definitely visit this small, old village near Gümüşlük. The village, with its small stone houses and boutique hotels and tiny green trees, provides its visitors with a unique Bodrum experience the luxury hotels and beach clubs cannot provide. The village is also the destination to buy authentic souvenirs from Bodrum.—High Exclusive Designed Villas In Bodrum
Yalıkavak and Turkbuku
While Yalıkavak and Turkbuku are two different geographical locations, they offer very similar experiences for sea lovers. Both locations promise all the beauties of a sea-side vacation with all luxuries available, from parties to restaurants and beaches.—High Exclusive Designed Villas In Bodrum
What to Eat in Bodrum?
Bodrum has a special cuisine that is rich of sea foods. Do not hesitate to try those delicious local dishes. If you do not prefer to taste seafood, you can always find either traditional Turkish foods from all over the country or international franchise restaurants.
High Exclusive Designed Villas In Bodrum
ID:

22545

Published:

December 19, 2022

Last Update:

December 19, 2022

Views:

38