Features
Balcony
Cafe
Car-parking
Garden
Investment properties
Kitchen
Lift
Restaurant
TV Cable
Details
Cheap 2 bedrooms Apartment with a full sea view for sale in Kuşadası.
swimming pool
in-site
7/24 security
Close to the city center
public transportation
Kusadasi, which means "bird island" in Turkish, is set in a superb gulf in the Aegean region of Turkey and is known for its turquoise sparkling water of the Aegean Sea, broad sandy beaches, bright sun and large marina with a capacity for 600 boats. A glorious ancient city stands beside it, Ephesus with millions of visitors from tours each year.
The town is only 80 kilometers (50 miles) from Adnan Menderes Airport in Izmir. Numerous holiday villages and hotels line its shores and hundreds of restaurants serves food from all around the world and, of course, Turkish Cuisine, which is one of the largest cuisines of the world. There are also many hostels, discos, bars, cafeterias, pubs and "Turkish Nights"; all those to cater holiday-makers.
Bargain Full Sea view Apartment for Sale in Kuşadası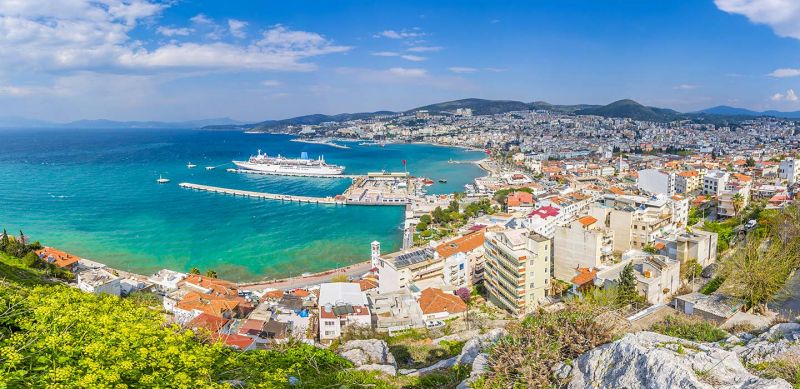 Kusadasi has retained a certain earthiness to it and inexpensive meals and pensions can still be found in town. Many shops do a brisk trade with passengers from hundreds of cruise ships that dock for a day or two, allowing enough time for a trip to Ephesus and a shopping expedition.—Bargain Full Sea view Apartment for Sale in Kuşadası
Around 2000 BC people coming from Lelek, Caria and Lydia had settled down as a society to the slopes of Pilav Mountain. Later one by one with the unit settlements Pigale, Maratheson, Neopolis and Panionion came to life; Ionians and later Romans by Ephesus coming into the dominance of Rome, had lived in these lands.
Today's Kusadasi is founded in 16th century by Venetians as a colony. The castle on the small island was built for the purpose of observation in Byzantine times. In the Middle Ages Kusadasi was ruled by Venetians and Genoese which had taken the name of Scala Nova.
Bargain Full Sea view Apartment for Sale in Kuşadası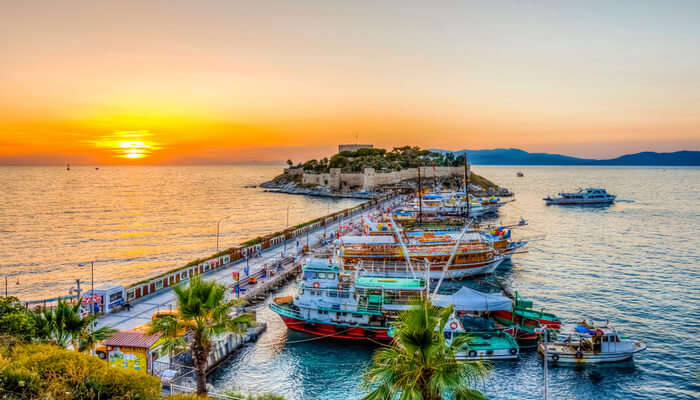 The city was surrounded with castle walls for being protected from the violence of pirates, very common in the Mediterranean those centuries. It's known that there is an Ionian Region of Kusadasi. This had taken an important harbor mission on Asia – Europe trade road for many years.
In the period of Scala Nova, the Armenians were dominant to trade, Greeks and Jews had joined to them. With the Manzikert (Malazgirt) War in 1071, Seljuk Turks had started to spread in Anatolia. During the process of Turkish principalities formation in 1304, Sasa Bey had been the authority of Kusadasi and surroundings. Mehmet Bey had connected this vicinity to Aydinogullari after Sasa's death.(Bargain Full Sea view Apartment for Sale in Kuşadası)
Kusadasi is a harbor town and Turks had kept this in mind. Although they were nomads from central Asia and far away from maritime business, they had learnt maritime as well as the Ephesians in a short time. They had lived comfortably with the spoils they caught at naval battles. Kilic Arslan added this town to Selcuk government and Scala Nova again had become the exportation gate of Anatolia in 1186.
Sultan Yildirim Beyazit had joined Ayasulug (in Selcuk town) to his principalities and the city became Ottoman in 1390. In the beginning of 15th century Tamerlane decided to take whole of Anatolia under his sovereign, but when he couldn't take Ayasulug he put the castle on fire in which Ottoman soldiers resisted, and St. Jean's Church was damaged very badly. With Celebi Mehmet I Kusadasi had gathered to the Ottoman Empire again and became a district.
Bargain Full Sea view Apartment for Sale in Kuşadası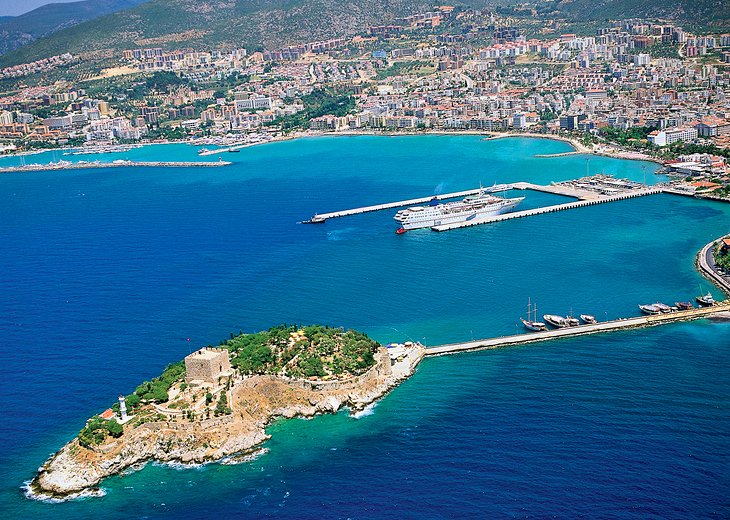 At the end of First World War Ottoman government was defeated, so Kusadasi was given to Italians with a treaty, and under their rule the town was filled with Turks, Greeks, Jews, Armenians. Most of those minorities left the country on 7th September 1923 after the War of Independence led by Atatürk.–Bargain Full Sea view Apartment for Sale in Kuşadası
Lands between Güzelcamli and Selcuk, the estates of Greeks which went back during the agreement to exchange minorities between Greece and Turkey, were given to Turkish immigrants in return to their properties there; the same was done by the Greek government. This migration was between 1941 and 1955.
Bargain Full Sea view Apartment for Sale in Kuşadası
ID:

11617

Published:

October 9, 2019

Last Update:

November 18, 2022

Views:

706