Features
24 Hour Security
Air Conditioning
Alarm system
ATM
Balcony
Cafe
Car Park
car washing
Car-parking
Central heating
Dryer
Fair escape stairs
Fireplace
Fitness
Garden
Green Areas
Gym
Holiday property
Hotel Consept
Investment properties
Kitchen
lobby
Luxury Property
Meeting rooms
near hospital
near shoppingMall
Outdoor Swimming Pool
Play ground
Sauna
Security
Security System
Security System with Camera
Spa and Sauna
Swimming Pool
Swimming Pool for Kids
WiFi
Details
5 STARS HOTEL FOR SALE IN ANTALYA SIDE
LOCATION: ANTALYA – SIDE
250 METER TO SEA, 5KM TO CITY CENTER, 65 KM TO AIRPORT AND 3 KM TO SHOPPING CENTER
12 MONTHS OPEN
Within 17 000 M2 of land
355 ROOMS – 825 BEDS
An opportunity not to be missed
*General Features:
Aquapark poll
Night animation
Kids club
Disco
Rent a car
Darts
Step & aerobic
In the city center
Basketball
Tennis
Children pool
Outdoor restaurant
water sports
Outdoor swimming pool
Volleyball
Car park
Beach
Close to sea
Archery
yoga
Amphitheatre
Bars & cafes
Security
Game park
pılates
*Inner Area Properties
Ping pong
24-hour front desk
Transfer
kids club
Game room
Markets
rent a car
Disco
security
hairdresser
Laundry
Bars & cafes
Billards
Internet cafe
Meetings & Conference halls
Massage
SPA & Wellness
Shopping center
Doctor
TV
A la Carte Restaurant
Indoor swimming pool
Fitness center
sauna
Turkish bath
Security Camera
Therapy center
Steam room
hairdryer
Phone
Currency exchange
safe
jacuzzi
Darts
library
Safety deposit boxes
Bazaar
gift shop
Fax – Copier
Meeting and banquet refreshments
Dry cleaner
Indoor restaurant
Mini bar
32.000.000 EURO
17000 m2
The Antalya Region( Antalya Province), offering all the mysticism of past in our day, is now called the "Turkish Riviera" due to its archaeological and natural beauties. Antalya is the place where sea, sun, history and nature constitute a perfect harmony and which also includes the most beautiful and clearest coast along the Mediterranean. The city still preserves its importance as a center throughout history in the south coast of the country, in addition to its wonderful natural beauties. The mythological city which housed the Gods and Goddesses now exhibits all its secrets and marvels to mankind.
Antalya Hotel for Sale in Turkey
Antalya is located in the west of the Mediterranean region. In ancient times it covered all Pamphylia which means "the land of all tribes". The land really deserves the name since it has witnessed many successive civilizations throughout history. In 1st century BC the Pergamum king Attalus ordered his men to find the most beautiful piece of land on earth; he wanted them to find "heaven on earth".–Antalya Hotel for Sale in Turkey
After a long search all over the world, they discovered this land and said "This must be 'Heaven' " and King Attalus founded the city giving it the name "Attaleia". From then on many nations kept their eyes on the city. When the Romans took over the Pergamene Kingdom, Attaleia became an outstanding Roman city which the great Roman Emperor Hadrian visited in 130 AD; an arch was built in his honor which is now worth seeing.
Antalya Hotel for Sale in Turkey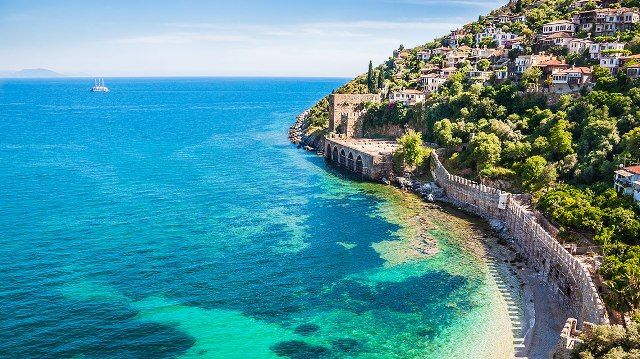 Then came the Byzantines, after which the Seljuk Turks took over the city in 1207 and gave it a different name, Adalya, and built the Yivli Minaret. The Ottomans followed the Seljuks and finally within the Turkish Republic it became a Turkish city and an important port. Antalya has been growing rapidly since 1960 and its population is 1,146,109 according to the 1990 census.–Antalya Hotel for Sale in Turkey
The climate of the province is typical Mediterranean: hot and dry in summers and temperate and rainy in winters. Sunshine is guaranteed from April to October and the winters are pleasantly mild. The humidity is a little bit high, about 64%, and the average water temperature is 21.5 °C. Antalya is really a heavenly place where the summer season is about 8-9 months long.
Antalya Hotel for Sale in Turkey
Tourist Attractions
Antalya and its surrounding is an important and noteworthy touristy center on the Mediterranean Coast with its perfect climate and splendid harmony of archaeological, historical and natural beauties, throughout the year. Daily tours to surrounding touristy areas like Side, Alanya and Termessos are available, in addition to longer tours to Pamukkale or Cappadocia or anywhere you would like to go. Professional tourist guides are also available.
Antalya Hotel for Sale in Turkey
ID:

11738

Published:

October 17, 2019

Last Update:

November 12, 2022

Views:

773