Unobstructed Sea view Luxury Villa In Bodrum
Features
24 Hour Security
Air Conditioning
ATM
Balcony
Car Park
Car-parking
Central heating
Dishwasher
Dryer
Green Areas
Gym
Investment properties
Kitchen
Luxury Property
near atm
near hospital
near shoppingMall
Security
TV Cable
WiFi
Details
It comes to life in the center of Bodrum on 22 acres of land with magnificent views of the sea, nature, marina, Bodrum castle and islands. The interior design of the project, There are 41 4+1 type, 204 square meters luxury penthouses in the project,
which consists of 23 twin villas1 and a total of 46 3+1 type villas of 196 square meters. Each of the villas designed with minimal 1and refined lines has a private pool and garden.
Each Penthouse apartment has a swimming pool with magnificent views and a kitchenette on the roof terrace. Services such as 24-hour private assistant and site security, as well as optional housekeeping service are offered to the homeowners.
In addition, 12 months assistant service can be provided upon request. Within this service; Airport welcome, house cleaning, child care, daily housekeeping service, summer-winter maintenance of the house and keeping it ready to live at any time, kitchen shopping etc. services are also provided.
* Ready to Move
Project Information:
Located on 22,000 m2 area
46 Villas
3+1 Bedroom Options
Facilities:
Site Features
Walking Track
Parking Garage
Indoor Swimming Pool
Children Swimming Pool
Children's Playgrounds
Sauna
Turkish Bath
Fitness Center
SPA
Outdoor Swimming Pool
Security
Camera Security
Parent Dressing Room
Laundry Room
Balcony
Prices:
| | | | | |
| --- | --- | --- | --- | --- |
| Rooms | Min m2 | Max. m2 | Min. Price | Max. Price |
| 3+1 | 190 m2 | 190 m2 | 850.000 $ | 860.000 $ |
Location:
10 Minutes to Sea side
20 Minutes to Highway
40 Minutes to Bodrum International Airport
An impressive medieval castle built by the Knights of Rhodes guards the entrance to Bodrum's dazzling blue bay, in which the Aegean and the Mediterranean Seas meet. The town's charm is well-known, attracting a diverse population of vacationers who stroll along its long palm-lined waterfront, while elegant yachts crowd the marina.
Not far from town, you can swim in absolutely clear, tideless, warm seas. Underwater divers, especially, will want to explore the numerous reefs, caves and majestic rock formations. The waters offer up multicolored sponges of all shapes and sizes, octopi and an immense variety of other aquatic life.
Unobstructed Sea view Luxury Villa In Bodrum
Bodrum has gained the reputation as the center of the Turkish art community with its lively, friendly and Bohemian atmosphere and many small galleries.
This community has encouraged an informal day-time life style and a night-time of excitement. The evenings in Bodrum are for sitting idly in one of the many restaurants, dining on fresh seafood and other Aegean specialties.
Afterwards night clubs (some with cabaret) and superb discos keep you going until dawn. Lately, many foreigners have bought (and continue to buy) property in and around Bodrum for their holidays or for the retirement. It became a popular area especially for the British nationals.Unobstructed Sea view Luxury Villa In Bodrum
Bodrum, known in the ancient times as Halicarnassus which was the capital of Caria, was the birthplace of Herodotus and the site of King Mausolous' Tomb (4th century BC), one of the Seven Wonders of the Ancient World. In the harbor, the Bodrum Castle,
or the medieval castle of St. Peter, is a fine example of 15th century crusader architecture, and has been converted into the Museum of Underwater Archeology, with remains dating as far back as the Bronze Age.
The stunning panoramic view from Goktepe, nearby, is much photographed by visitors to the Museums' 2nd century theater.(Unobstructed Sea view Luxury Villa In Bodrum)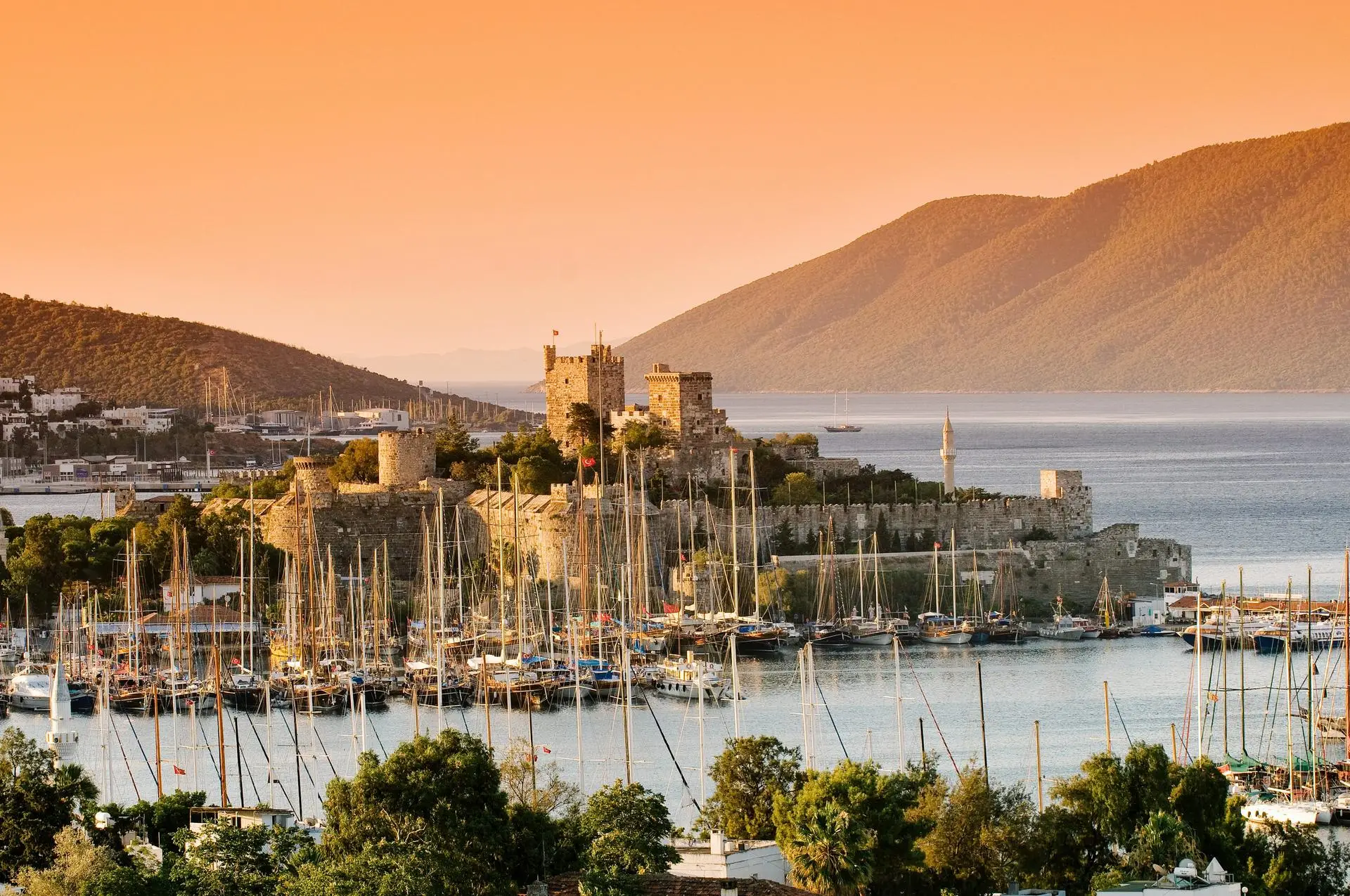 The beautiful Bodrum Peninsula suits holidaymakers interested in a subdued and relaxing atmosphere. Enchanting villages, with guest-houses and small hotels on quiet bays, dot the peninsula.
On the southern coast, Bardakci, Gümbet, Bitez, Ortakent, Karaincir, Bagla and Akyarlar have fine, sandy beaches. Campers and wind-surfers enjoy Gümbet, and at Bitez colorful sail boards weave skillfully among the masts of yachts in the bay.-Unobstructed Sea view Luxury Villa In Bodrum
On shore you can enjoy quiet walks through the orange and tangerine groves bordering the beach. Ortakent has one of the longest stretches of sandy beach in the area and offers an ideal place for relaxing in solitude.
One of the most beautiful beaches on the Bodrum peninsula, Karaincir, is ideal for lively active days by the sea and relaxed, leisurely evenings with local villagers.-Unobstructed Sea view Luxury Villa In Bodrum
Finally, Akyarlar enjoys a well-deserved reputation for the fine, powdery sand of its beach, it's also considered as one of the best beaches in the world. Turgutreis, Gumusluk and Yalikavak, all with excellent beaches, lie on the western side of the peninsula and are ideal for swimming, sunbathing and water sports.
In Turgutreis, the birthplace of a great Turkish Ottoman admiral of the same name,Unobstructed Sea view Luxury Villa In Bodrum
you will find a monument honoring him. In the ancient port of Myndos, Gümüslük, you can easily make many friends with the hospitable and out-going local population. In Yalikavak white-washed houses with cascading Bougainville line narrow streets. Small cafes and the occasional windmill create a picturesque setting.
Unobstructed Sea view Luxury Villa In Bodrum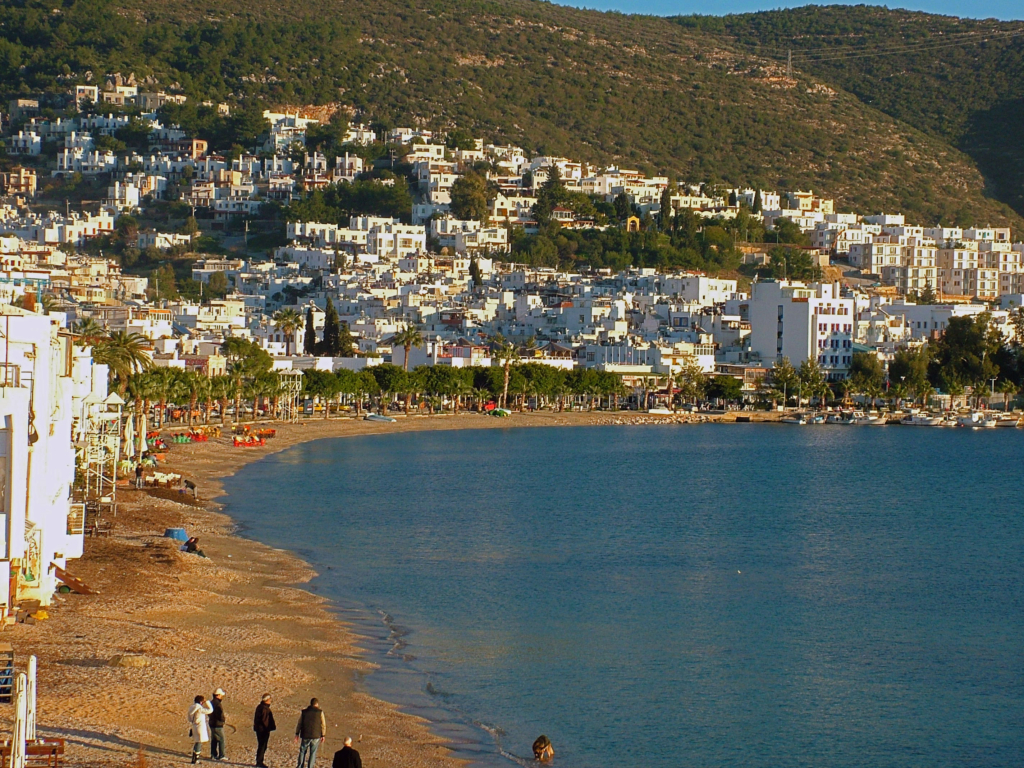 See the north coast of the peninsula – Torba, Türkbükü, Gölköy and Gündogan – by road or, even better, hire a boat and crew to explore the quiet coves, citrus groves and wooded islands.
Little windmills which still provide the energy to grind grain crown hills covered with olive trees. Torba, a modern village with holiday villas and a nice marina is located 8 kilometers north of Bodrum.
Gölköy and Türkbükü are small and simple fishing villages with a handful of taverns overlooking a lovely bay. After a boat trip to Karaada, half an hour from Bodrum, you can bathe in the grotto where the warm mineral waters flowing out of the rocks are believed to beautify the complexion.Unobstructed Sea view Luxury Villa In Bodrum
Unobstructed Sea view Luxury Villa In Bodrum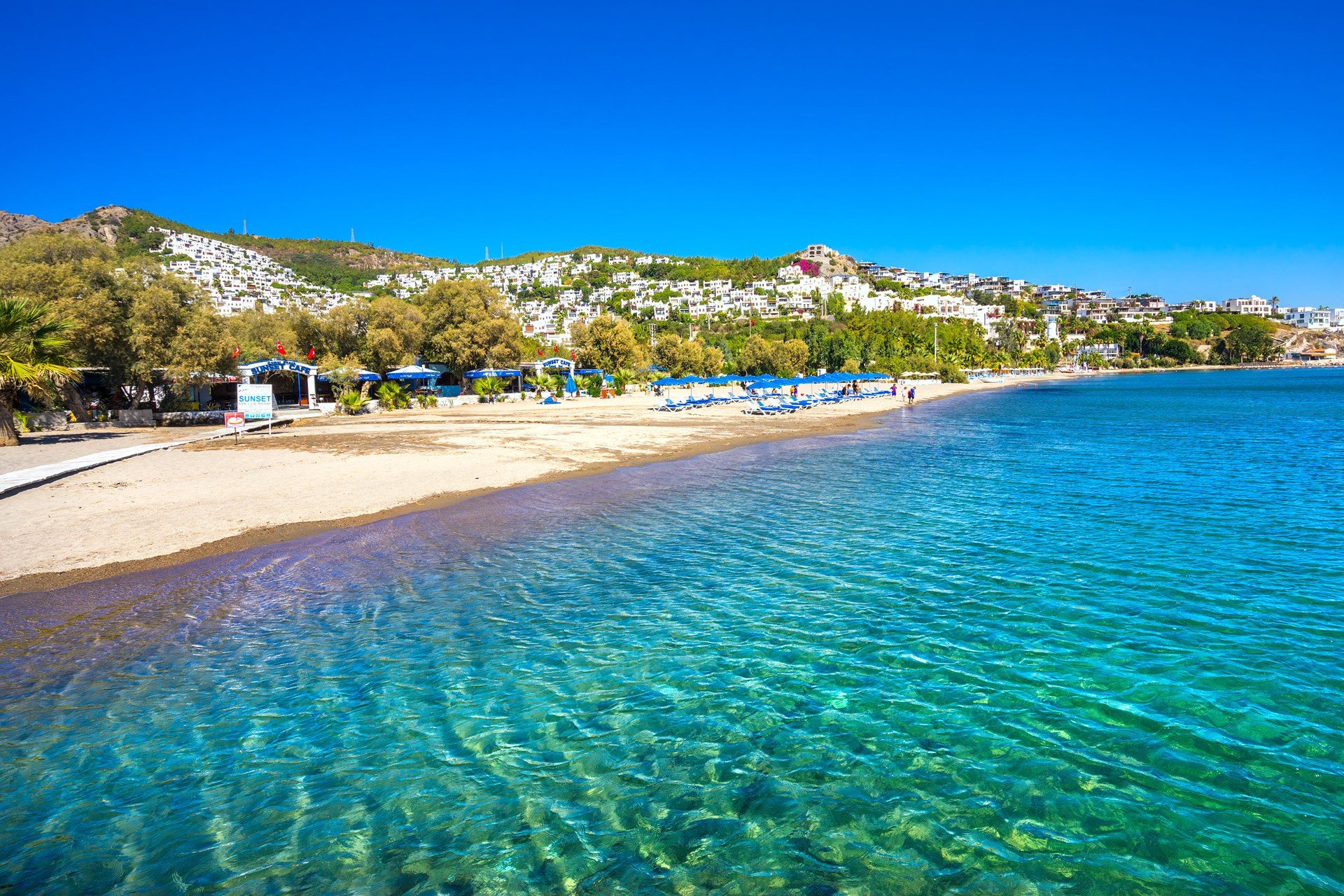 The translucent and deep waters of the Gulf of Gökova, on the southern shore of the Bodrum peninsula vary from the darkest blue to the palest turquoise, and the coastline is thickly wooded with every hue of green.
In the evening, the sea reflects the mountains silhouetted against the setting sun, and at night it shimmers with phosphorescence. You can take a yacht tour or hire a boat from Bodrum for a two, three or seven day tour of the gulf.
Unobstructed Sea view Luxury Villa In Bodrum
ID:

21465

Published:

October 28, 2022

Last Update:

October 28, 2022

Views:

65