Stunning And Spacious Designed Apartments
Features
24 Hour Security
Air Conditioning
ATM
Balcony
Cafe
Car Park
car washing
Car-parking
Central heating
Dryer
Green Areas
Gym
Investment properties
Kitchen
Luxury Property
near atm
near hospital
near shoppingMall
Sauna
Security
TV Cable
WiFi
Details
The Project provides you with many advantages in social areas with its wide landscape, open walking and sports areas, pleasant moments with the common adult and children's pool, multi-purpose basketball court where you can relieve the stress of the day, children's playground and resting areas.
Our site has 3 main entrances. There is a security area at 1 main entrance and an automatic door entrance special for residents at the other 2 entrances. Keep the peace in your life with 24/7 private security on our site, enjoy your new home away from worry while your children grow up safely. Its custom-made landscape allows you to spend productive time with nature.1 private parking area for each residents and a private parking area for your guests also make you comfortable.
* Suitable for Citizenship
* Ready to Move  In 2023
Project Information:
Located on 7,400 m2 area
90 Apartments
2+1, 3+1 Bedroom Options
Facilities:
Site Features
Walking Track
Parking Garage
Swimming Pool
Children Swimming Pool
Children's Playgrounds
Sauna
Turkish Bath
Fitness Center
SPA
Security
Camera Security
Balcony
Prices:
| | | | | |
| --- | --- | --- | --- | --- |
| Rooms | Min m2 | Max. m2 | Min. Price | Max. Price |
| 2+1 | 66 m2 | 90 m2 | 100.000 $ | 110.000 $ |
Location:
10 Minutes to Sea side
25 Minutes to Highway
25 Minutes to Bodrum International Airport
Bodɾum Located at the junction of the world's 2 best seas, the Mediterranean and the Aegean, Bodrum offers a mix of both worlds. It has the architecture of the Greek islands with white painted houses but at the same time much like the Costa del Sol, Rhodes, and Majorca, Bodrum has grown into a household name among Mediterranean beach holiday resorts. Stunning And Spacious Designed Apartments
Many Turks and foreigners own summer houses in Bodrum. Since a big part of Istanbul's population and wealth migrate here for the summer, it is frequently referred to as "little Istanbul". It is massive, with its size doubling most Turkish cities in the summer which means there is a lot going on but not everything is worth your time.  It can be tricky even for the Turks to find the right spots. (Stunning And Spacious Designed Apartments )
So as your local friend who spent around a dozen of summers in Bodrum, we prepared you Bodrum guide explaining where to stay, how to plan and get around, and the top things to do in Bodrum.
Bodrum is clear of tourists and it is a good time to get really local. If you go to Bodrum off-season, make sure to stay in the center which is the liveliest part of the town. Stunning And Spacious Designed Apartments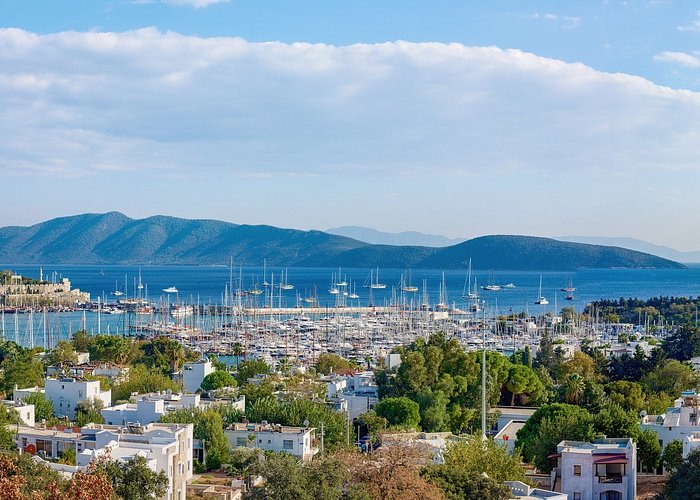 Warning: There are 2 religious holidays when Turks have an extended vacation; Kurban Bayramı and Şeker Bayramı, known as the Eids. Because Islam uses the moon calendar, they fall into a different month every year. Never go to Bodrum during Eid if it is in summer. It gets so packed that traffic jam starts inside the airport.
Bodrum, as a region, is so vast and the things to do here are so spread out that renting a car is the most practical option. Sure, minibusses called dolmuş that shuttle you from one place to the other, but the routes can be so winding and the connection stops so numerous that you will lose a lot of time.
As for taxis, forget it. The taximeters are so merciless that you will lose half your budget. Car rentals, then, are the most practical and affordable option.
Although the area is best experienced outside the tourist season, splashing around in typical tourist fashion is still one of the best things to do in Bodrum.Stunning And Spacious Designed Apartments
It has with 67 blue-flag beaches, which is a stamp of approval given only to cleanest waters. However, as the temperature starts to rise, the beaches begin to crowd out – but there are plenty of hidden options for you to avoid the chaos. Stunning And Spacious Designed Apartments
We go into detail on these in our Bodrum Beaches article. Whether you are looking for a beach club or public beach, some isolated corner or a popular beach, you can find your answers there.
Stunning And Spacious Designed Apartments
ID:

21188

Published:

October 18, 2022

Last Update:

October 18, 2022

Views:

56