Villas With Private Pools In A Peaceful Area In Muğla, Bodrum
Features
Air Conditioning
ATM
Balcony
Barbecue
Car Park
car washing
Car-parking
Central heating
Dishwasher
Fitness
full sea view
Garden
Green Areas
Gym
Luxury Property
near hospital
Outdoor Swimming Pool
Sauna
Security
Swimming Pool
TV Cable
WiFi
Details
The project is being implemented in Tilkicik Bay with its seaside location.  It consists of 50 private residences.  In Tilkicik Bay, private residences with sea views are waiting for you,
You will be included in a life like a 4-season holiday in the housing project, which combines the comfort of a hotel with the warmth of a home.  There are 1+1, 2+1 Duplex, 3+1 Duplex and 4+1 Duplex apartment options in the project, which reaches every segment with different housing types.  Starting from 77 m2, the width of the houses is up to 224 m2. 
There are private garden, middle floor and private roof terrace housing types in the apartments in the project.  All you have to do is live a pleasant life in the residences you choose according to your wishes.
  Among the many services offered, you only pay for the ones you choose, and you get low fees.  In addition, with the Club Card, home owners have the opportunity to benefit from all the privileged services they prefer with a 50% discount. 
* Ready to Move
Project Information:
50 Villas
1+1,2+1,3+1, 4+1 Bedroom Options
Facilities:
Site Features
Walking Track
Parking Garage
Indoor Swimming Pool
Children Swimming Pool
Children's Playgrounds
Sauna
Turkish Bath
Fitness Center
SPA
Outdoor Swimming Pool
Security
Camera Security
Balcony
Prices:
| | | | | |
| --- | --- | --- | --- | --- |
| Rooms | Min m2 | Max. m2 | Min. Price | Max. Price |
| 1+1 | 51 m2 | 108 m2 | 1.000.000 $ | 1.100.000 $ |
| 2+1 | 81 m2 | 121 m2 | 1.350.000 $ | 1.400.000 $ |
| 3+1 | 104 m2 | 159 m2 | 1.750.000 $ | 1.750.000 $ |
| 4+1 | 150m2 | 200 m2 | 2.250.000 $ | 2.500.000 $ |
Location:
5 Minutes to Sea side
60 Minutes to Bodrum International Airport
The ancient name of Bodrum is 'Halikarnassos'. It was read as 'Halikarnassus' in Turkish.
The city was named 'Petrium' after the city was dedicated to St. Peter, together with the castle called St. Peter's Castle. Over time, this name has been pronounced as 'petrum', then 'potrum' and finally 'Bodrum'.Villas With Private Pools In A Peaceful Area In Muğla, Bodrum
There are many things in Bodrum. A magnificent sea, a wonderful nature, Touristic places, museums, mosques, historical places, old churches, sightseeing places and more…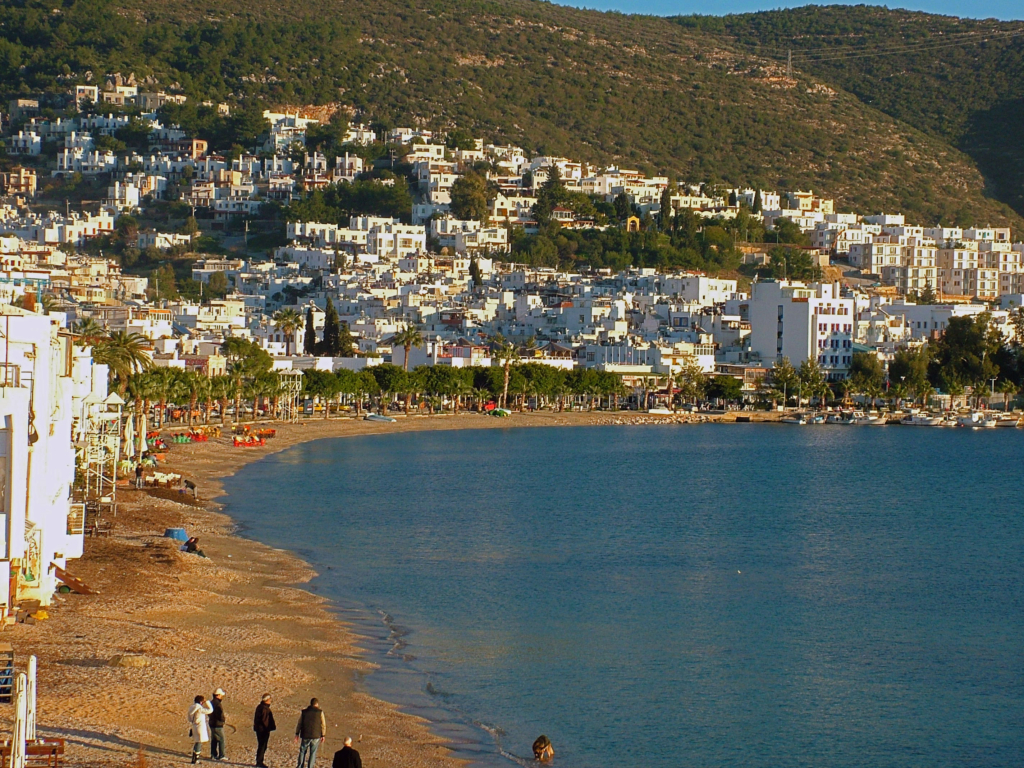 It is a town where the Aegean and the Mediterranean meet. It is located on a very beautiful peninsula. It is always lively and sincere. It is one of the most beautiful and famous holiday resorts in Turkey.
This region, which is famous for its nightlife, is very popular during the summer period.The clear, deep blue sea is full of natural beauties. The pristine coves and countless beaches adorned with interesting rock formations offer perfect days for swimmers, divers and nature lovers. There are also octopuses and sponges of various shapes and colors.
Bodrum hosts yachts from all over the world. Bodrum Cup Race is held every October. Bodrum is one of the pioneers in boat building.
You can have a fun night by choosing one of Bodrum's discos, one of the best in Europe. You can have an unforgettable "Blue Cruise" on the turquoise coasts of Turkey, visit Kekova or the ancient port of Phaselis, where Alexander the Great stayed during the winter months.
The peninsula is smooth and restful. Secluded coves and quaint villages. Bitez Bay, Bardakçı Bay, Gümbet Bay, Ortakent Mansion, Karaincir, Türkbükü, Yalıkavak, Gümüşlük, Aspat, Karaada, Bagla, Güvercinlik, Torba, Gölköy, Kadıkalesi, Turgutreis, Ada Strait (Aquarium), Akyarlar.
Villas With Private Pools In A Peaceful Area In Muğla, Bodrum.  Resorts and hotels, discos and bars right next to the bays. Gumbet and Bitez are heaven for windsurfers. Villas With Private Pools In A Peaceful Area In Muğla, Bodrum
Windy places are suitable for this sport. Ortakent has wonderful sandy beaches. The powder sand of Akyarlar beach is also known. In Karaincir, you can have fun moments on the wonderful beaches, and spend a nice night in the public cafes at night.
ID:

20521

Published:

September 30, 2022

Last Update:

October 1, 2022

Views:

82