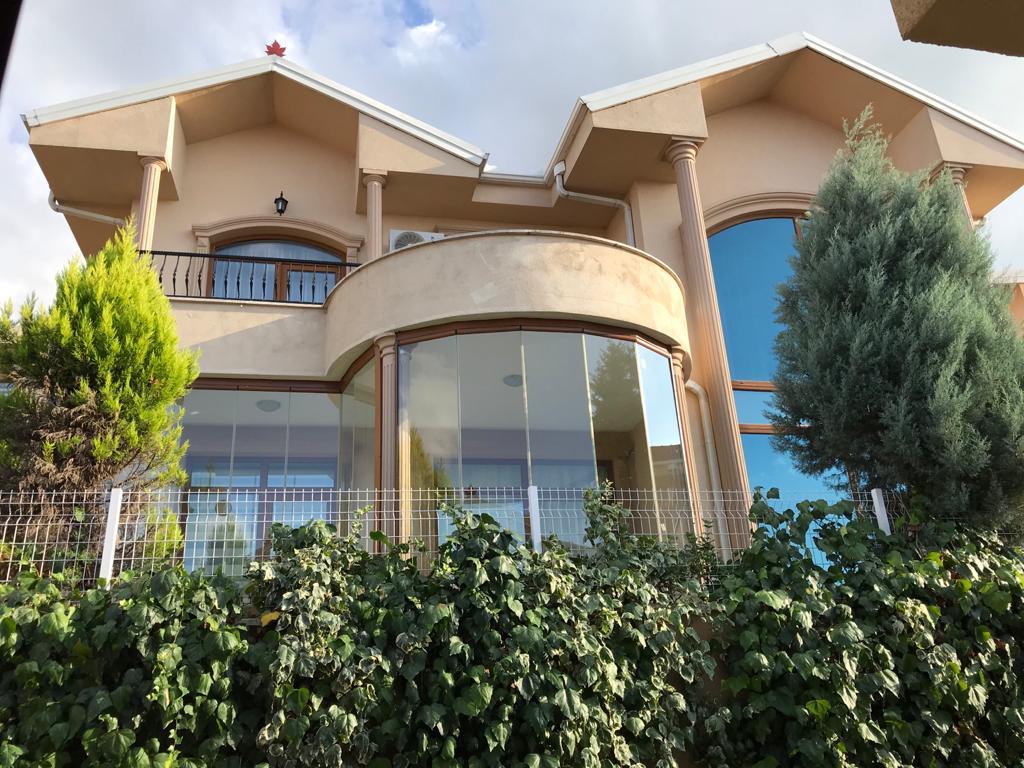 Details
Luxury Family concept sea view for sale in Izmit Bahcecik area.
Area is known well area in Izmit ,which is Classy people live in Bahcecik area.
Property has 5 bedroom , living room ,3 bathroom , garden and full sea view .
Ready to Move Family concept Villa.
Jump to navigationJump to search
İzmit (Turkish pronunciation: [ˈizmit]) is a district and the central district of Kocaeli province, Turkey. It is located at the Gulf of İzmit in the Sea of Marmara, about 100 km (62 mi) east of Istanbul, on the northwestern part of Anatolia. As of the last estimation (made on 31 December 2021), the city center had a population of 367,990. Kocaeli province (including rural areas) had a population of 2,033,441 inhabitants, of whom approximately 1.2 million lived in the largely urban İzmit City metro area made up of Kartepe, Basiksele, Korfez, Golcuk, Derince and Sapanca (in Sakarya Province).[2] Unlike other provinces in Turkey, apart from Istanbul, the whole province is included within the municipality of the metropolitan center.
İzmit was known as Nicomedia (Greek: Νικομήδεια) in antiquity, and was the eastern and most senior capital city of the Roman Empire between 286 and 324, during the Tetrarchy introduced by Diocletian. Following Constantine the Great's victory over co-emperor Licinius at the Battle of Chrysopolis in 324, Nicomedia served as an interim capital city for Constantine between 324 and 330, when he rebuilt and expanded the nearby city of Byzantium as the new Roman capital; formally dedicating it in 330 with the name Nova Roma,[4] before he soon renamed it as Constantinopolis (modern Istanbul).[4] Constantine died at a royal villa near Nicomedia in 337. During the Ottoman Empire, İzmit was the capital of the Sanjak of Kocaeli.
Economy
[
edit
]
İzmit has a history as a port city. As of 1913, the Turkish government had been working to privatize the port. At that time, Vickers built a temporary dock, bringing a small export business to the area. The British described the port as having little business as of 1920.[8]
During the sanjak period of İzmit, the forested regions of the area were devastated by deforestation. The wood in the region of İzmit was used to produce charcoal, primarily.[12] During the 1920s, the area was also known for manufacturing linen.
Factories were rare during that time, so most linen was handmade. It was described as being "coarse" and as being in high demand in Turkey as of 1920. İzmit was the home of two Turkish Army and Navy uniform factories. One made fez hats and the other made cloth. The area made carpet and embroidery, made by mainly Christian women.[13]
İzmit has a large oil refinery and major paper and cement factories. Ford Motor Company has a plant here in a joint venture with Otosan, assembling the Transit/Tourneo (including the new V362 Transit/Tourneo Custom since late 2012) and Transit/Tourneo Connect vans. With Ford's Southampton Assembly Plant closing in July 2013, and the launch of the new Otosan only V363 Transit in 2014, İzmit will be the sole producer of Ford Transit vans for Europe. It is also a transportation hub, being on the main highway and railway lines between Istanbul and Ankara and having a major port.
In the past few years the province has developed into a growth point for the Turkish automotive industry, receiving investments from Ford, Hyundai, Honda and Isuzu. Tyre and rubber products are produced to world-class standard (Goodyear, Pirelli, Lassa and Bridgestone). As of today,
Kocaeli province has attracted more than 1200 industrial investments, 108 of which have been established with international capital. Turkey's largest enterprise, the Tüpraş Petroleum Refinery Plant, is in Kocaeli, containing altogether 27% of the national chemical products industry, including petrochemical products. Eighteen of the 100 largest enterprises of Turkey are in Kocaeli and contribute to around 17%-18% of the national tax revenues.
Financial Times affiliated Foreign Direct Investment magazine nominated Kocaeli (the province of which İzmit is the capital) among the 25 European Regions of the Future for 2006–2007.[14] The city was chosen along with Adana for Turkey, which scored the highest points for cost effectiveness against Kocaeli's wider infrastructure, while Adana and Kocaeli tied on points for human resources and quality of life.
The famous Turkish traditional sweet Pişmaniye is a product of İzmit and the Kocaeli Province.
Transport
[
edit
]
Located along the commercially-active Black Sea and Marmara Sea shorelines, Kocaeli boasts 5 ports and 35 industrial docks, making it an important communications center, as well as Anatolia's farthest inland contact point and a gateway to global markets. The main transportation routes, the D100 highway and the Trans European Motorway which connects Europe with Asia, along with railway lines, form an intercontinental passage network. İzmit Central railway station is one of the busiest in Turkey, built in 1977 to replace the original station.
Kocaeli neighbours one of the world's largest metropolitan centers, Istanbul. Its vicinity to Istanbul's two international airports (Sabiha Gökçen International Airport and Atatürk International Airport) which are 45 and 80 km (28 and 50 mi) away, respectively, from İzmit's city center, provides national and international connections.
On 1 March 1958, SS Üsküdar, a small passenger ferry sailing between İzmit and Değirmendere sank due to lodos weather. 272 people died including 38 students and seven crew. 37 passengers and two crew survived the disaster.[15][16][17][18]
Population
[
edit
]
| Year | Total | Urban | Rural |
| --- | --- | --- | --- |
| 2008[19] | 306.515 | 287.970 | 18.545 |
| 2009[20] | 313.964 | 293.339 | 20.625 |
| 2010[21] | 315.734 | 294.875 | 20.859 |
| 2011[22] | 322.588 | 300.611 | 21.977 |
| 2012[23] | 327.435 | 302.960 | 24.475 |
| 2013[24] | 332.754 | 332.754 | — |
| 2014[25] | 338.710 | 338.710 | — |
| 2015[26] | 347.074 | 347.074 | — |
| 2016[27] | 354.464 | 354.464 | — |
| 2017[28] | 360.409 | 360.409 | — |
| 2018[29] | 363.416 | 363.416 | — |
| 2019[30] | 367.990 | 367.990 | — |
Education
[
edit
]
Kocaeli University (KOU) was established in the city in 1992. The university has more than 50,000 students. It has established a department of international relations that monitors Bologna developments closely and oversees KOU's participation in the Erasmus and Leonardo da Vinci student mobility schemes. With membership in the European University Association, KOU is aiming for greater international recognition of its academic work.
The university, while focusing on technical and engineering subjects, offers an extensive selection of courses in social sciences and arts as well. Some steps toward certification by ABET (Accreditation Board for Engineering and Technology) are being taken by the Faculty of Engineering, such as adaptation of course content in engineering majors.
ID:

13310

Published:

October 23, 2020

Last Update:

September 25, 2022

Views:

756